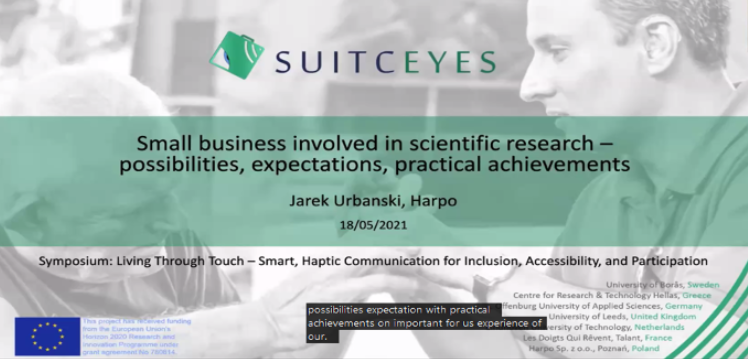 Communications and technology influence each other. When health problems arise, devices equipped with artificial intelligence can help the psychophysical improvement of subjects.
Many studies are oriented towards the development of user friendly devices that can safeguard human autonomy and well-being.
A word that cannot be missing in the vocabulary of a good device – particularly if it has to support people suffering from complex diseases – is accessibility.
The eSticky project takes shape from the encounter between care and technological development
participates in the Suitceyes symposium, thanks to the contribution of @Harpo Sp. z o.o, with a speech aimed at emphasizing the importance of the display, as the main support tool for the elderly.
The Symposium promoted by SUITCEYES promotes discussion on life through the event – Living Through Touch – Smart, Haptic Communication for Inclusion, Accessibility, and Participation.

The event page is available at the following link https://suitceyes.eu/program/