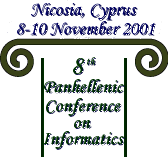 EPY8
IMPORTANT DATES
Workshop Venue:

Thursday, Nov. 8
14:45-18:00
TRAVEL INFORMATION
Special offers for traveling and accomodation are available to the Conference's participants.
ORGANIZATION
Workshop Chair: M. Dikaiakos, Dept. of Computer Science, University of Cyprus
Workshop on
MOBILE SERVICES:
INFRASTRUCTURE, CONTENT & USABILITY
Dr. Ekaterini Yamalidou
Head, Enterprise Solutions Strategic Business Unit
Hyperion Systems Engineering
Nicosia, Cyprus
Katerina Yamalidou holds a B.Sc. in chemical engineering from the Aristotle University of Thessaloniki, an M.Sc. in chemical engineering and a Ph.D., both from the University of Notre Dame, with specialization in process modelling, simulation, optimization and control. She has worked with academic research groups in Europe and the US, published in Automatica, Computers and Chemical Engineering and International Journal of Production Research and taught university courses on process automation, control and industrial production management. She has consulted for the manufacturing industry of Northern Greece on process automation. Since joining Hyperion, Katerina has worked for the creation of the Supply Chain Management (SCM) Division, managed it and was also involved in the execution SCM projects initially as a leading consultant and then as a technical leader. Since early 2001 she is heading the Enterprise Solutions Strategic Business Unit of Hyperion, which currently encompasses the ERP and SCM Divisions.