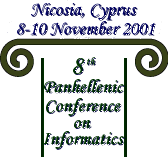 EPY8
IMPORTANT DATES
Workshop Venue:

Thursday, Nov. 8
14:45-18:00
TRAVEL INFORMATION
Special offers for traveling and accomodation are available to the Conference's participants.
ORGANIZATION
Workshop Chair: M. Dikaiakos, Dept. of Computer Science, University of Cyprus










Workshop on
MOBILE SERVICES:
INFRASTRUCTURE, CONTENT & USABILITY
---
"The Mobile E-Commerce Services Landscape:
Location-Based Services"
Dr. A. Tsalgatidou
Assistant Professor
Department of Informatics and Telecommunications
University of Athens, Greece
Abstract
Mobile E-Commerce has brought many business and technical challenges and opportunities for many players. On the business side, MEC drives the introduction of new business models and the offering of new applications and services appropriate for the mobile environment. On the technical side, MEC drives the development of appropriate transaction mechanisms and secure algorithms and devices to support the construction of the new applications. The mobile user and her/his requirements play a central role in this revolution. This talk sets the scene for the Mobile E-Commerce by briefly discussing its differences from Electronic Commerce, the new challenges in the area of business models and the supporting technology. It then discusses about Mobile E-Commerce Services and finally focuses on location-based services.