Cyprus, the legendary birthplace of Aphrodite, is an island situated in the North-Eastern basin of the Mediterranean Sea, at the crossroads of Europe, Africa and Asia. The legend of the birth of Aphrodite, emerging through the foam of the sea waves, can be compared to the geological birth of Cyprus, in the sense that the island rose from the ocean. The nucleus of this phenomenon is the mountain range of Troodos, which is 92 million years old. The rocks of Troodos were created from the ancient oceanic bark, which started rising from the sea 10 million years ago. First emerged from the sea the Troodos massif on to which limestone sediment began to attach gradually leading to a drop in the depth of the seas. The last to become attached was the Pendadactylos range to the north of the Troodos massif. Cyprus emerged from the sea 1,85 million years ago.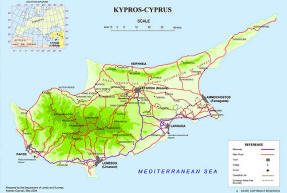 Cyprus is a country where 21st century still rubs shoulders with history. It is an island with great diversity, combining western bustle and eastern calm. Cosmopolitan hotels, restaurants and nightclubs coexist with quiet mountain villages seemingly untouched by the 21st century. The island's strategic location has been a major factor in shaping its history throughout the centuries and, in recent years, its development into a centre for international business. This sun-drenched island has been at the crossroads of world events for centuries. Greek, Roman, Byzantine and British influences have all had a bearing on life in Cyprus. 10,000 years of history and culture have left Cyprus a heritage rich in historical and artistic treasures - Byzantine monasteries, ruins of Greek and Roman monuments and Venetian castles.
It has a marvellous climate with an average of 340 days of sunshine per year, fine sandy beaches, pine scented forests and vine covered hillsides. The weather in Cyprus in October is warm and pleasant during the day and cooler in the evening; temperatures range from 15-27°C (60-80°F).

Travel to Cyprus is easy, with direct flights from key cities around Europe. Intercontinental travelers will find it easy to take connecting flights from London or Athens, for example Lemesos is 30 minutes by car from Larnaka airport.

The people of Cyprus owe their individuality and warmth to the fact that they are the product of an amazingly colourful history. That's why Cypriots make visitors feel at home as soon as they step on the island.